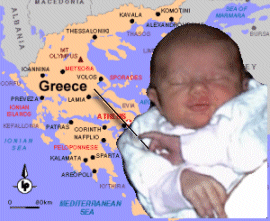 Zoe says:
"Let's Learn
Greek!"

Come celebrate
Greek Independence day
with Cousin Ilias!

_________________
Hey, English speakers!



Impress Zoe's Greek
relatives by singing
the Greek Happy
Birthday song.
(links to www.greece.org's site)
_________________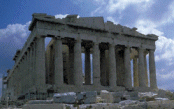 Want to learn more? Check out the Greek/English dictionary.
(links to www.kypros.org's site)

What's in a Name (Day)?
According to Greek Orthodox tradition, every day of the year is dedicated as the feast day of a Christian saint or martyr. Your "Name Day" celebration (

) is the feast day of the saint you are named after. In Greece, a person's Name Day is celebrated and is considered more important than a Birthday.

Did you know?
Zoe's name day is always the first Friday after Easter. Incidentally, this is the only Friday on which the church advises meat eating!

On a name day, the traditional greeting is (HRO-nyah poh-LAH), which means "many years."