Playing around at the Playground
On a hot, hot hot summer day, Zoe, Loucas, and Alex slide, swing, and climb their way through a playground near Yiayia's house.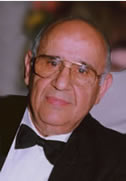 Loucas Constantine Tzanis,
Beloved husband, father of four, and grandfather of three. Pappou passed away on October 14, 2004 in Harrisburg, PA.